Boot writer:
boot writer is an application made all in fool and a little assembly, to run under any DOS compatible environment.
the gui is simple.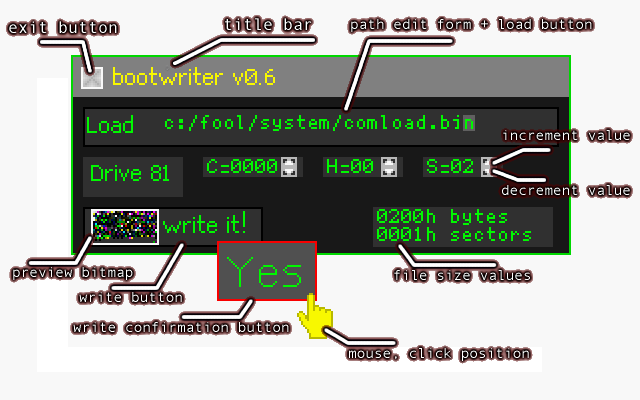 first, the title bar:
displays a button to exit, and the name of the application.
just under this bar, the first form.
this edit form is the path of the file to load in the DOS file system.
to load the file, you should click on the form.
! when you load the file, the button "write it!" in the left down corner will display a "pixel image" of the file content, it is a cool trick i find usefull because it lets you verify the content with just one single look.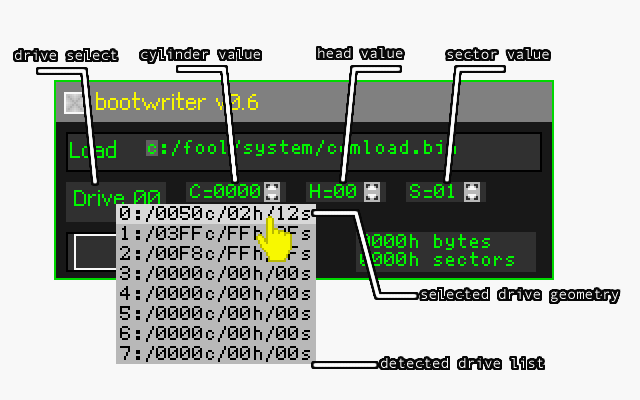 the second form lets you choose a drive detected via BIOS int13h.
valid drives will show their geometry in the drive popup window.
ones you selected the destination drive, you should verify the first sector coordinate in CHS.
for BOOT sector, all field should be C=0 H=0 S=1
for the second sector, CHS=0 0 2
etc...
the down right corner shows the size of the file in real sectors, and in bytes.
a single boot sector is 200h bytes, and 1 sector.
when you click on write it button
here is the screen shot of bootwriter application with ramview application.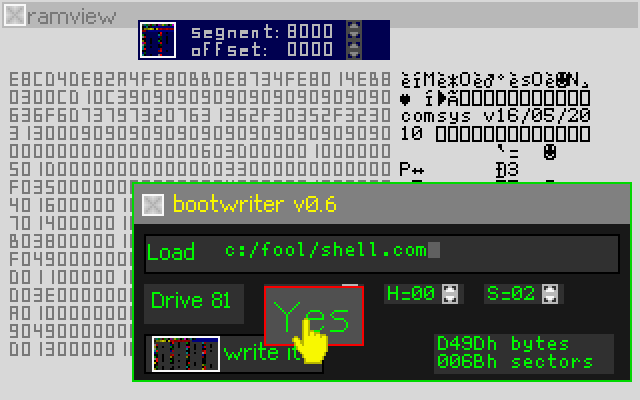 requirement:
bios int 13h (write sectors),
dos int 21h (open & read file),
dos int 33h (mouse driver),
fool library.
todo list for the next version (0.7):
keyboard useage of all this application, and dependances, possibility to edits every forms, by selecting them with some tab (or a surprise.
..)
possibility to select the sectors in LBA form (Hexa or decimal), with automatic CHS<->LBA update.
possibility to view and edit content of file in a choosen editor.
possibility to load file from sectors, file system, file editor.
possibility to store file to sectors, ram, file system, file editor.
caution, be carefull with bootwriter, you can lose your datas forever!
But be confiant, i added a confirmation button.
a big one that should be clicked to launch the process.