...thanks for all the testing ! All in line with my other results !
Here are some comparison graphs to see what was achieved now with the latest evolution KMB V0.53H (at SSE2 'G' for Pentium M) compared to my very first non optimized code with single instruction lines, no different exits, no loop unrolling, released almost 2 years before (KMB V0.53):
FPU-Version: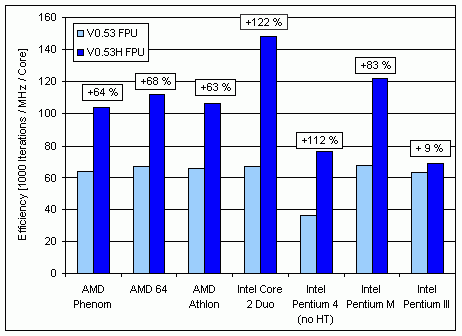 The verdict here is, that I thought at first neither Intel or AMD improved their FPU and all were the same level except Pentium 4...what was clearly wrong after seeing the latest results. Intel did a hell of improvement with the Core2Duo when you find out what this cpu needs...different instruction lines and loop unrolling to make full use of the out of order architecture and those execution units. Except of the 4 cores Phenom lacks of any improvement.
SSE2-Version: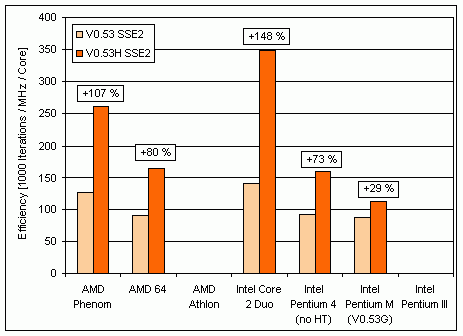 Again Core2Duo with the lead, AMD couldn't keep up even with the same extension to the 128bit SSE2 bandwith, but still of course much better than AMD 64 design. Strange that Pentium M is even a little slower compared to FPU version.
I'm really keen on seeing results now of the upcoming stuff like VIA Nano, Intel Core2Duo Nehalem (Hyperthreading) and long time later Core2Duo Sandy with 256bit SSE2 bandwith...in the meantime I still search for a result for Pentium 4 with Hyperthreading to indicate again the benefit of it. I guess with non optimized code Hyperthreading would help with Core2Duo.