Hello,
You may be familiar with the spritz fast reading method illustrated
here
. I made a small reader with a similar algorithm, to try to read a book this way.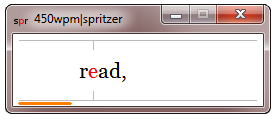 Just launch it, paste (Ctrl+V) any text you have previously copied, from any source, then press Space to toggle the reading. You can change the words per minute using Up and Down, and you'll find several other options in a contextual menu. The program also creates a .ini file where you can change some settings.
k.